"In times of crisis we need humanity, expression and community. That is what art creates. The values we support today will determine the world we live in tomorrow."
Jane Fonda, American actress and political activist
This site is dedicated to all Rohingya people.
Since decades the Rohingya people, the most persecuted minority of this world, are facing discrimination, persecution, torture and murder in their home country Myanmar.
This Muslim community which already belongs since hundreds of years to Arakan State, Myanmar, is not accepted by the Buddhist majority and started to face rejection and disapproval with the beginning of the Burmese dictatorship under Ne Win in 1962. So life was never easy for the Rohingya but worsened dramatically with the so-called "clearance operations" conducted by the Burmese military army the first time in 1978.*
These well planned genocidal attacks were repeated again in 1991-92, 2012-15 and in 2016-17 and included mass-murder and mass-raping of ten thousands of Rohingya people. Since the late 70's already hundred thousands of Rohingya were forced to flee their motherland by foot to the refugee camps of Cox's Bazar into the neighbouring country Bangladesh.
"Clearing of Rohingya is unfinished business…"
Min Aung Hlaing, General Chief Commander of the Burmese military junta, Oct. 02, 2017
This exodus found its apex in August 2017 when the Burmese junta assaulted and burned down again hundreds of Rohingya villages in a sweeping and well organized military operation. For ongoing three weeks the military terrorists commited mass-raping on ten thousands of women and men and slaughtered thousands upon thousands of Rohingya men, women and children. The extent of cruelty commited and the degree of suffering and pain inflicted are beyond any imagination and forced over 750.000 Rohingya within few days to escape again by foot to Bangladesh. Since then around one million Rohingya are somehow surviving under inhumane conditions in the refugee camps of Cox's Bazar desperately waiting to be allowed to go back to their home in Arakan, Myanmar.
On this platform I want to welcome everyone who is interested to learn more about the Rohingya, their culture and their ongoing fight to survive and to be heard.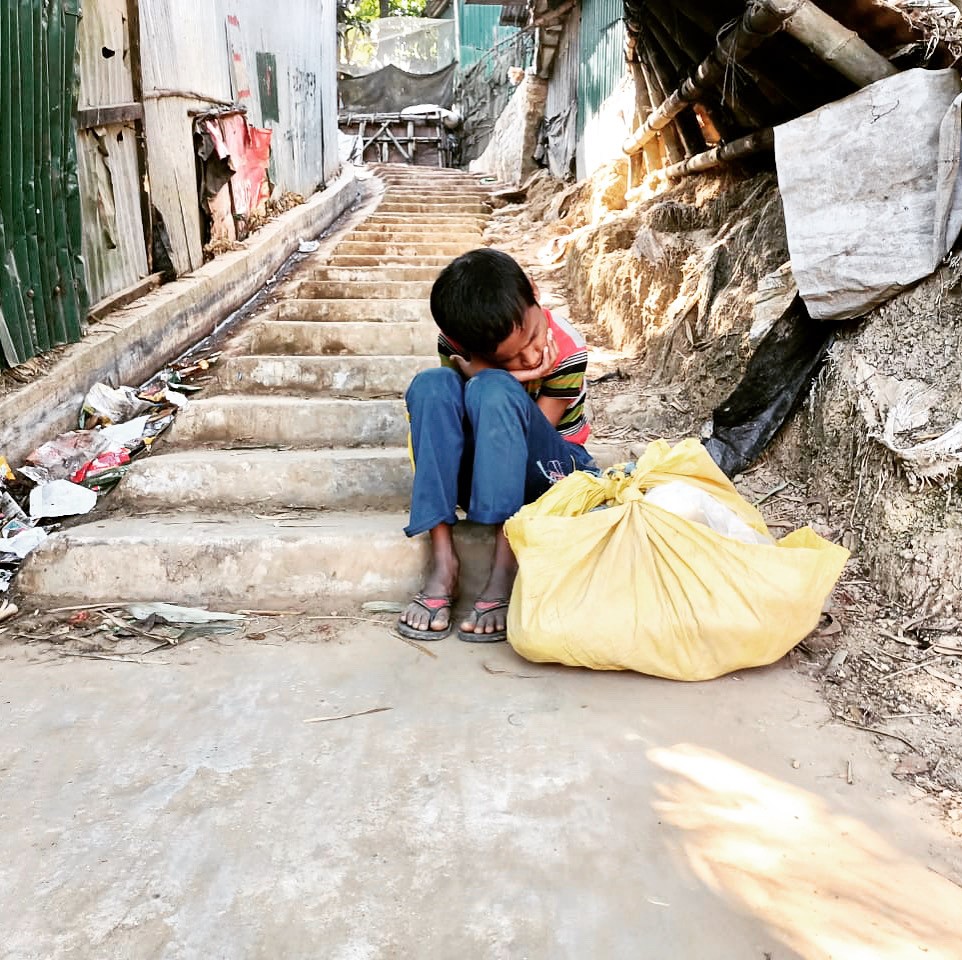 "Rohingya child taking a rest, pensive, in the biggest refugee camp in this world", photo credit Abul Kalam
The "Rohingya-voice" is loud and strong and is expressed through an enormous variety of deeply touching, often sad, yet beautiful and most impressive artistic works. Many young Rohingya use their voice through photography, poetry, paintings, essays, stories and journalistic articles and it's always related to their life, their identity and their strong wish for an education and a better future.
Every form of Rohingya artistic expression deserves recognition.
It's important to value and preserve all creative work of the Rohingya culture to guarantee the persistence of their identity for all future generations. The contributions shown here are all my personal individual choice and serve like my so-called "living archive". So this is just the beginning of a hopefully growing project. Of course and needless to say – every work which is published here can always only be a small excerpt of the Rohingya artistic multiplicity. There is so much more out there: Rohingya crafts and also Rohingya music are a cosmos for itself. Anyhow, I would like to invite more Rohingya to this page, especially and with open arms all awesome women also of this community, and to encourage them to participate with their creativity in whatever cultural field to furthermore keep this page going and alive.
"Burning Arakan", painting by Enayet Khan
It is self-evident that I will not publish any content here without the explicit consent and permission of the producers and that the rights of all contributions here remain with the makers.
Cristine Frees, Cologne, October 2020
* Waves of Genocidal terror against Rohingya by Myanmar and the resultant exodus since 1978, Middle East Institute, MEI, Washington