Bringing hope, colours and joy inside the refugee camps of this world, with "Artolution".
Learning about the Rohingya life inside the refugee camps of Cox's Bazar I was looking at countless photos and watching numerous videos in the last two years. This documenting visual material reached me on many platforms, coming from private people, news media and also many aid organisations. While doing this I couldn't get around these amazing gigantic paintings brought onto big murals and buildings everywhere in the camps.
These unique remarkable paintings really stood out and caught my eye instantly. In all this monochrome of the streets and shelters the colours of these amazing large format street art paintings gave me a good feeling right away and came to me like a freshness explosion.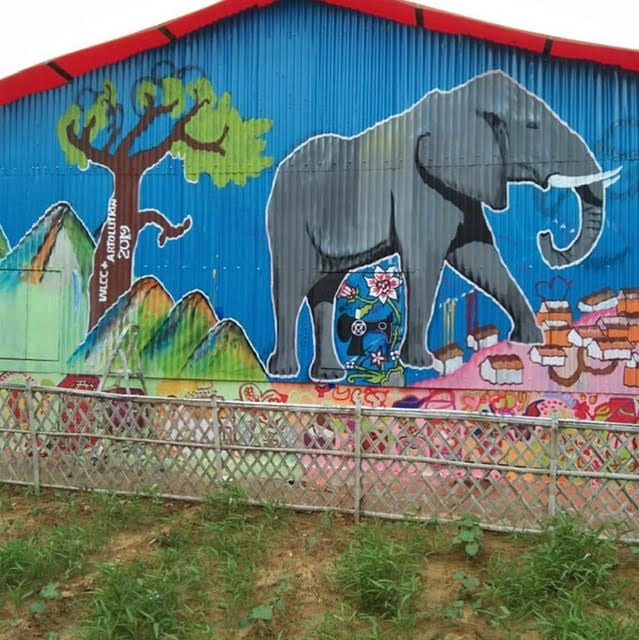 In Arakan wild elephants are part of Rohingya life and reality, photo credit Rohingya Artolution
I was wondering who was behind all this? Who was able to start such a gigantic art project and made this possible? And how do Rohingya respond to this art?
At some point in the recent months I then came across "Artolution".
"Artolution" is a not-for-profit public art corporation founded 2012 by the New Yorker artists Dr. Max Frieder and Joel Bergner. Their mission was and still is to bring colour and art to the most dismal places in the world, one of which are the Rohingya refugee camps of Bangladesh. They have already been able to paint hundreds of large-scale murals all around the world, particularly with communities living in conflict zones like slum communities in India, Brazil and Kenya, with juveniles in detention centres in the US, with Palestinian children raised in conflict, with kids living in orphanages in Peru and South Africa and with Syrian refugees who are living in camps in Jordan and Lebanon to the Gaza strip and Israel.
The aim in all their efforts is to encourage traumatized people of war and conflict to become creative and "to transform from being victims of their circumstances to agents of social change." The attempt is to heal trauma through a positive input and to reach mental and physical health for all through innovative arts-based programs. With their collaborating art-making Frieder and Bergner created a unique and effective way to mobilize and empower all people of a community to strive for justice, mindfulness and peace. Implementing public art is also used as a tool to address many taboo issues like HIV, homosexuality, gender equality and gender based violence.
Encouraging to learn through art, photo credit Rohingya Artolution
"You might have food, you might have water, you might have shelter, but there are many deep-rooted psychological traumas that refugees around the world are facing today."

Dr. Max Frieder
In Bangladesh the "Rohingya-Artolution" team creates year-round art programs, managed and coordinated by the Bangladesh journalist and humanitarian specialist Suza Uddin. It all started in 2018 with a motivated team of Rohingya and Bengali artists and community leaders who spent several weeks interacting with Rohingya children and many other refugees who were interested in painting. With the support of big aid organizations like UNICEF Bangladesh, UNHCR Bangladesh, IOM UN Migration, Save the Children, the World Food Program, the International Federation of the Red Cross and many others they created multiple murals spread across the camps – covering schools, toilets and gathering spaces with a myriad of colours. Hundreds of children, teenagers and entire families came together to participate in painting these murals. Many women also found their calling in art and became part of the Artolution's group of local Rohingya artists who continue to make public art and work with children in the camps.
Rohingya expressing their strong desire for decades long denied education, photo credit Rohingya Artolution
"I think people around the world have no idea who Rohingya people are and what they are going through. These pieces of art, these stories that they create, are able to say: We are here. We exist."

Dr. Max Frieder
The members of "Rohingya-Artolution" are well aware of the therapeutic aspect of painting and that making art contributes to healing the severe traumas Rohingya had to face.
Until today this community is still suffering from deep mental injuries inflicted on them at home in Myanmar. Every single one, from child to grandparent, still has to overcome murder, torture, rape and destruction. All alone and all by themselves.*
Women, girls and children need to be protected at all times, photo credit Artolution
Promoting handwashing and public health awareness, photo credit Rohingya Artolution
Now they are already living since decades in the refugee camps of Bangladesh, the last big influx of 750.000 people came after the Burmese military genocidal attacks in August 2017. On top of the insurmountable psychological damage Rohingya have to deal with only few have found ways of earning a living. Most still have to rely on handouts like food, blankets and shelters from aid organizations working in the camps. A growing number of children who make more than half of the population are not allowed to go to school. They can be found collecting plastic trash, selling little snacks and cheap cigarettes in the streets and taking care of their siblings to help their families to somehow get along. In this totally hopeless situation "Artolution" appears like an oasis where Rohingya can breathe and forget their depressing situation for at least some time. "Artolution" offers places in the camps, especially for the children, where they can learn, draw and play.
Rohingya children painting a shelter, photo credit Rohingya Artolution
"On more than 100 collaboratively-painted walls, the Rohingya community has shown us their stories, their memories, their happiness and their hopes for the future. These images have contributed to the cultural preservation of the Rohingya experience and the traditions they were not allowed to share in Myanmar."

Dr. Max Frieder
Unfortunately in the beginning of 2020 multiple projects of "Rohingya-Artolution" had to come to a sudden halt due to the unexpected pandemic of Covid-19. Still this inspired team continued to carry out art programs at home and also continued to create murals that promote public safety during this unprecedented moment in time.
Raising awareness for wearing face masks during COVID-19, photo credit Rohingya Artolution
Healing through creating art, photo credit Rohingya Artolution
Another big colourful painting showing a friendly face, photo credit Mohammed Rafique
I guess it's plain to see that I'm totally amazed by this awesome art initiative. As long as there are inspiring, encouraged and positive people with a vision there is always hope. It's all about motivating and making a change. Through "Artolution" young people create art and contribute to their community. With colourful, uplifting murals that send out messages of togetherness, power, light and love in one of the bleakest environments on earth, they make this change.
March 2021
Cristine Frees
For more information and for supporting Artolution with a donor please klick on the following link:
Facebook: Artolution and Rohingya_artolution
Instagram: Artolution and Rohingya Artolution
*Fortify Rights, The torture in my mind