Amazing photography showing Rohingya through all generations.
The newly published Rohingyatographer Magazine founded and edited by my good friend Sahat Zia Hero in cooperation with the remarkable Rohingya photographers Ro Yassin Abdumonaf, Azimul Hasson, Abdullah Khin Maung Thein, Md Jamal, Shahida Win, Enayet Khan, Md Iddris, Omal Kahir and Hujjat Ullah, all based in the refugee camps of Cox's Bazar, Bangladesh.
This first issue deals with "identity" and features photos of different Rohingya starting with the youngest three months old member of the community up to the eldest man aged 102. Every photo and the people shown there tell us a story about hardship, struggle, grief and loss but also about love, beauty, perseverance and hope. This first issue of the twice per year released magazine already sets a milestone as a contemporary document in portraying and showing the Rohingya people's daily life thanks to the amazing work of its contributing photographers. This iconic magazine will go into history for all times as a profound, professionally produced and reliable source for making the Rohingya community visible to the world in this extra-challenging decade of the 20's in this millennium.
I congratulate to all contributors for making this awesome magazine become real. It is a big success and to own and to collect this one and every issue to come makes me very happy.
Get your copy now everyone and order it online over www.blurb.com. It's not only a must-have for any photography-loving person but also helps and supports the makers inside the world's biggest refugee camp to keep on going and to survive.
More Information: https://www.blurb.com/b/11148509-rohingyatographer-magazine
Also check out the magazine-accompanying webpage and the referring online exhibition at https://www.rohingyatographer.org/exhibition
This photo shows Anamul Hasson grabbing the barbed wire that surrounds the whole refugee camp. Restricted to move he feels like a prisoner. His eyes are looking up in disbelief, photo credit Abdullah Khin Maung Thein
Great snapshot showing Samia, 6, holding a chicken, photo credit Md Jamal
His name is Shaiful. He is 22 years old, born in the Thet Chaung village of the Maungdaw township, Rakhine State, Myanmar. On the night of August 25, 2017 he went fishing to a nearby lake. On his way home he saw military soldiers surrounding his village. Some houses were set on fire. He was scared and worried for his parents and siblings. He wanted to help but feared for his own life. A soldier saw him and shot him in the back. He fell down. They thought he was dead. He can't recall what happened after that. When he opened his eyes he found himself bleeding and couldn't move. His neighbours helped him to cross the river Naf to escape Myanmar. He reached Bangladesh in September and was taken to a hospital where his shot wound got treated. He says, he wants justice for himself and those who were murdered in his community, photo credit Azimul Hasson
This is the beautiful and utmost charming Azizah, 6, flirting with the camera and with the photographer, photo credit Sahat Zia Hero
Brotherlove. Solim, 6, with his younger brother, photo credit Sahat Zia Hero
Kaiser, 4, and Rashel, 6, looking rather sceptical through a whole, photo credit Azimul Hasson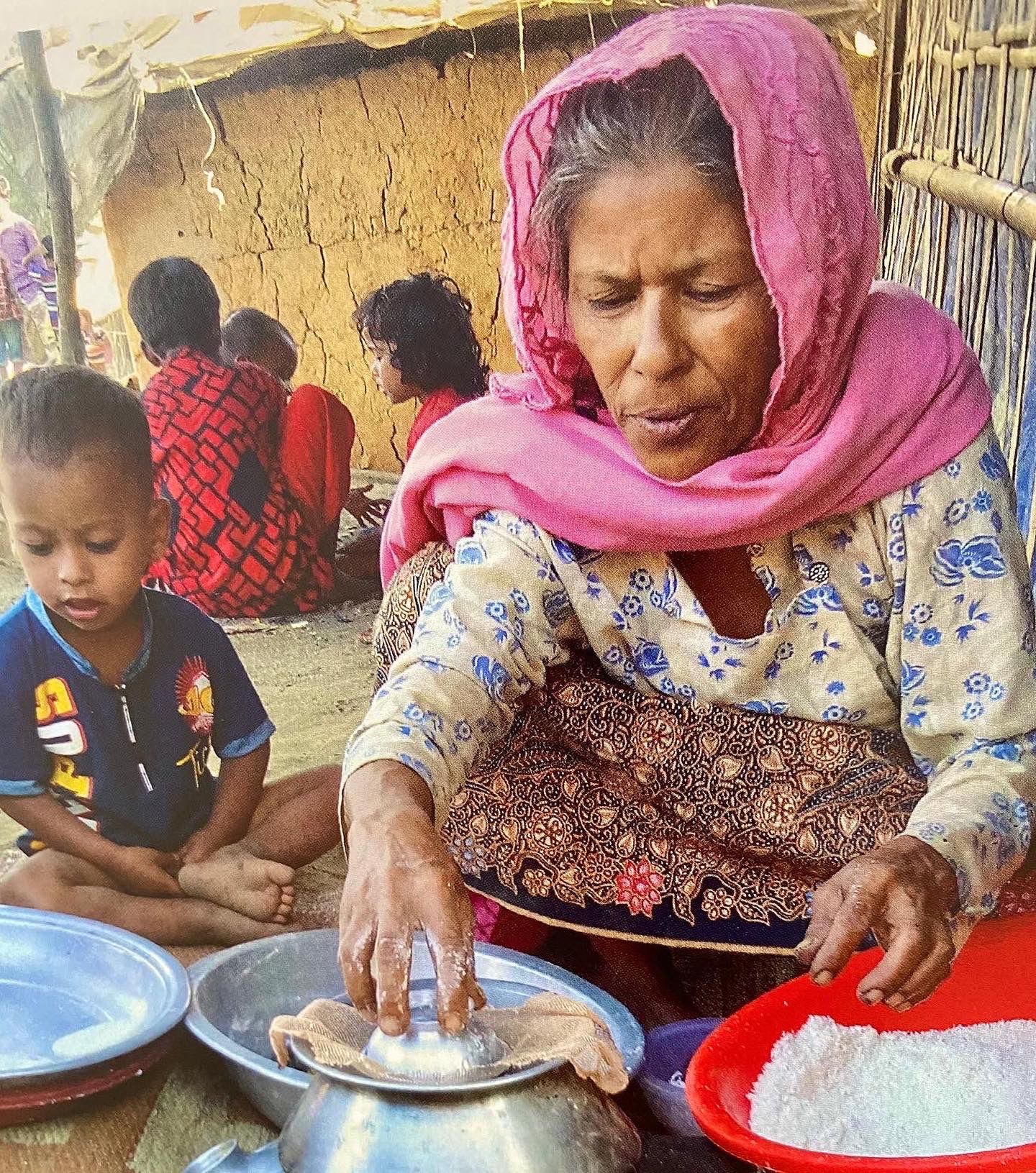 This is Rohima, 48, cooking small rice cakes. She sells this delicious snack during the winter season on the side of the road to people passing by, photo credit Md Jamal
This is Zobair, 71. I guess a more friendly looking face is not possible. He is a true heroe still being able to smile like this after the hell he had to go through all his life, photo credit Ro Yassin Abdumonaf
Follow the Rohingyatographer Magazine also on Facebook