"The importance of soccer to the Rohingya"
Like in every country of the western world soccer also plays a very important role in the life of the people of Myanmar, including the Rohingya.
It was always very fascinating to me that Burmese, who never participated in the soccer world championships, go so totally crazy about a sport that is professionally played so far away from Southeast Asia. I learned that Burmese get up at three o'clock at night to meet other soccer fans in teashops just to watch international or European matches live on one available TV. During the world championship not one game is missed by the committed soccer fans all over Myanmar. As it seems this passion for soccer is the only thing that all people of Burma unites and have in common.
This sport is followed and played also very passionate and keen by the Rohingya. Back in Rakhine, before 2017, every village had its own team and games took place regularly between them. Also friends groups of 22 met often, made two teams and played against each other in the afternoons. Rohingya know everything about soccer and so many men fall for this sport, just like here in Europe. The fight for the ball definitely plays a big part in the Rohingya daily life.
A group of young Rohingya watching others playing soccer, photo credit Mohammed Shoaib
So it's more than comprehensible that this passion did not go away inside the Rohingya refugee camps of Bangladesh. On empty spaces all over the camps, where no shelters were built, the soccer loving Rohingya men came together, cleared these fields from bushes and other disturbances and made them plane, sometimes with the help and support from NGOs. These soccer fields are never perfect to play on, but the Rohingya adjusted to these poor playing conditions and play there anyway.
Playing soccer in the mud can be fun too, photo credit Mohammed Ederis
The passion for soccer starts young, photo credit Mohammed Idris
Many Rohingya are very well informed for instance about the Champions League and also the Bundesliga and discuss daily about popular clubs and who will be the next probable favourite of the current season. Especially the teams of Manchester United, Real Madrid, Juventus Turin or FC Arsenal are the centre of attraction and are followed with blazing vigor. Every Rohingya knows who is Lionel Messi, Cristiano Ronaldo, Sebastian Schweinsteiger or Diego Maradona (RIP) and they follow their soccer heroes with full heart.
Soccer player MD Toa Rak (left) with a friend, photo credit MD Toa Rak
In the camps exist around over 100 teams and they are very well connected with each other. They maintain a network in which games are organized between different blocks and even among players from different Rakhine villages. So for example players who are originally from Maungdaw Township are playing against Rohingya who originally are coming from Buthidaung.
A Rohingya soccer game inside the world's biggest refugee camp, photo credit MD Toa Rak
There exist no series where one team works his way up. When two teams play, the watchers bet on the team which they think will win. So they throw a certain amount of money in a pot. When there is a revenge game they leave this money there and bet again. After this game the winner of the correct bets gets it all. Within the teams are no trainers and the players train themselves. No one manages the teams but every team has a leader and these leaders organize the matches among each other. So when there is a game planned this information goes basically from mouth to mouth and spreads like this all over the camps.
Young Rohingya soccer players in action, photo credit Mohammed Ederis
Mostly the games take place on Fridays because Friday is a holiday, so after the jumma prayers the afternoons are free for soccer. But also on Saturdays and Sundays games are being held.
Many Rohingya are watching soccer inside the refugee camps, photo credit Pan Thar Imran
Many times more than 1000 people watch one game and many men who don't have anything else to do walk daily to the soccer fields to watch if there is any game going on. Sometimes there are even games organized outside the camps when Rohingya play against their Bangladeshi counterparties. As I heard the Rohingya teams have really good and strong players who triumph over the Bangladeshis many times.
Like everywhere in the world soccer is mainly a sport for the young people. This applies also and especially to the Rohingya refugees who are simply not as healthy and resilient enough anymore when they are getting over 50. The life in these camps consists of merciless living conditions, daily hard work and privation which wears its traces on everyone living there…
Very promising Rohingya soccer offspring, photo credit Mohammed Salim Khan
So this explains even more the deep meaning soccer has to the Rohingya right now living in these camps and underlines the big importance of this people uniting game. At least for the length of 90 minutes the watchers and players are distracted and can forget their trauma and their sorrows while passionately supporting one team. More than anywhere soccer is a healer there…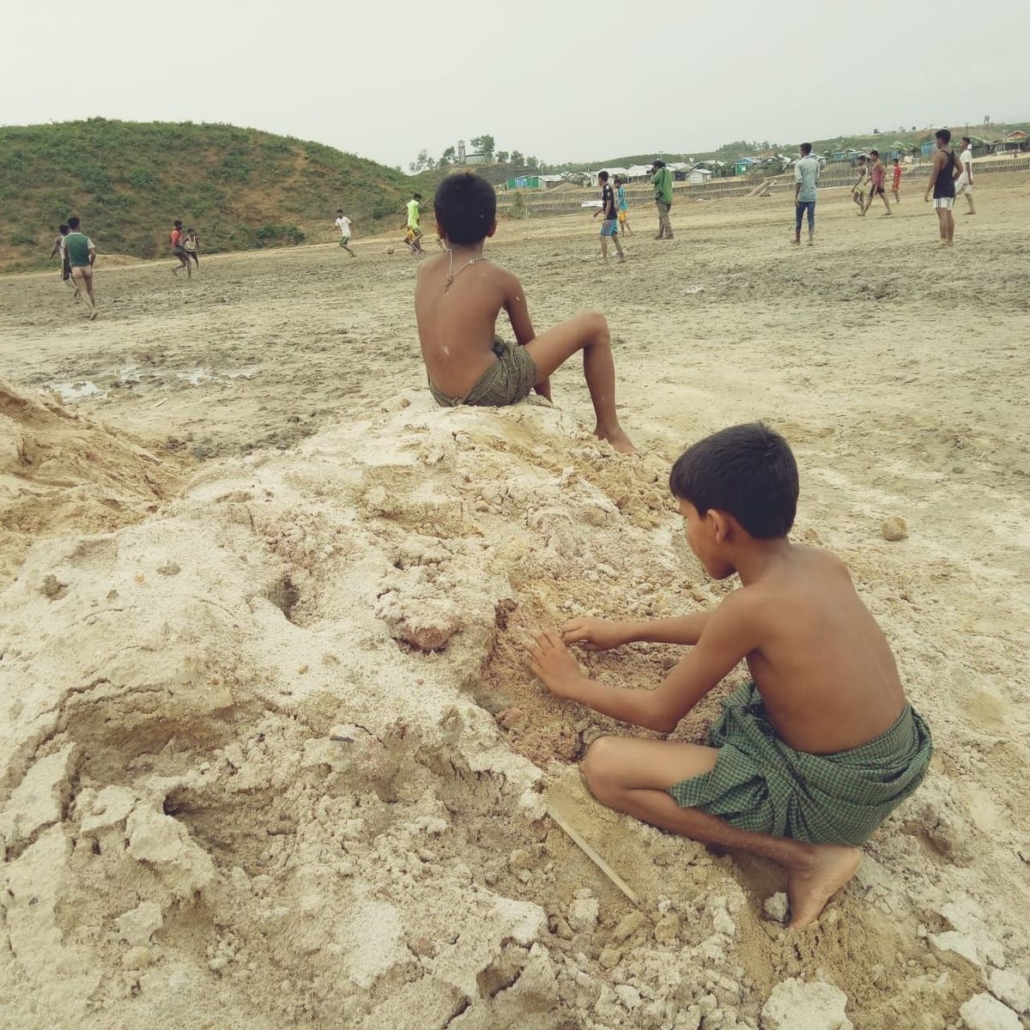 Watching the "big boys" playing soccer, photo credit Abul Kalam
Unfortunately there are no Rohingya girls or women so far playing soccer or watching the games. I hope this will change one day…
Source of information: Mohammed Rafique